A lick of paint, a dash of colour and a dose of personality - the recipe to interior design success
Image
Moving into a brand-new home is an exciting prospect, a blank canvas to totally transform and make your own. 
Where to start?
At Hill we work with a number of interior designers to make the most of the space available in our show homes, but also to encourage creativity and showcase what life in a Hill home can be like.
We are sharing some of our expert tips when it comes to making your new home the best it can be.
Find inspiration. Inspiration is key when planning an interiors scheme, websites and magazines can help spark a flame of creativity that we didn't know existed. Take your time and carefully pull ideas together to create a mood board. You might like a sideboard from one magazine and wallpaper from another, see how they would work together on paper before biting the bullet and purchasing.
 
Live in the space. It can be tempting to re-decorate a property as soon as you move in, but our biggest tip is to live in the home for a while, work out how you will use each room before diving in to decorating and furnishing straight away.
Image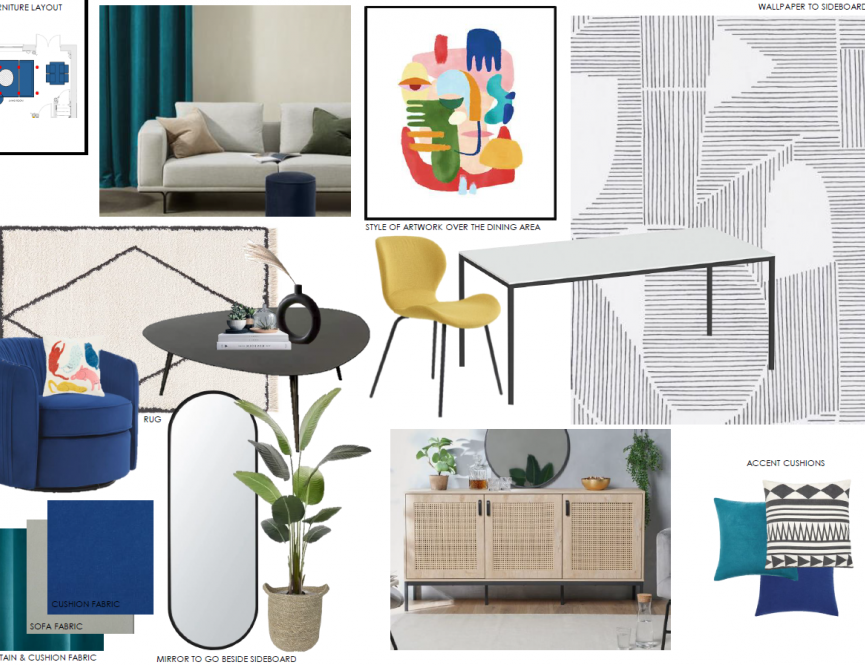 Image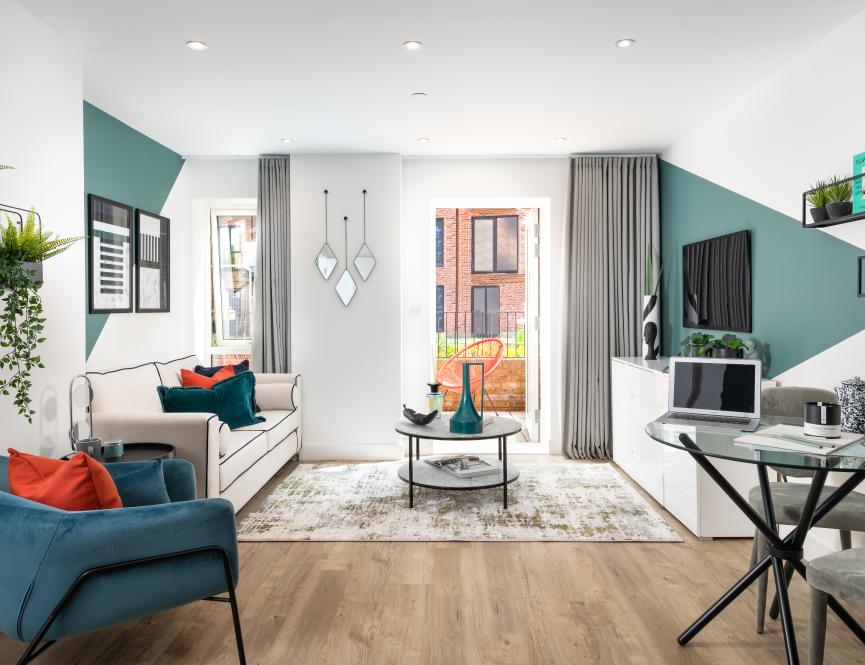 Try not to be too influenced by trends. Whilst wood panelling and tropical prints are in right now, in a year's time they may not be. Utilise these trends via budget-friendly accessories rather than big expensive statement wallpapers or furniture pieces that will date quickly.
 
Decide on your colour scheme. All of the interior designers we work with utilise a colour palette, for instance in our show home at The Gade which was recently designed by interior designers Artspace. A graduated mix of Dulux teals with white and accents of black have been used throughout the show home to provide subtle drama. Paint band effects add a splash of colour without using wallpaper. This helps to keep the property bright and fresh whilst creating an enhanced feeling of space in every room.
Get Creative
Once you've decided how you want your home to look its time to get creative and make your dream a reality. Here are some top tips to make the most of your design scheme.
Consider texture. Texture is just as important as colour! When viewing a property that has been dressed by a professional interior designer you'll notice that designs feature shades of the same colour that is also highlighted via fabrics, textiles and wood, this helps to create a rich and warm environment. In our show home at St James' Quay, award-winning designers Suna used rich walnut pieces alongside pastel pink velvets and navy linens to add interest to each room.
 
Use statement furniture pieces. Many homeowners make the mistake of incorporating too many pieces into one space, which can make the space feel cluttered. Aim to create a well-balanced space, with a large statement sofa and one or two smaller armchairs. Our interior designers are always mixing furniture styles. For instance, at Ironworks, designers Suna made use of eclectic vintage pieces alongside modern velvet sofas and imposing modern artwork, creating a vibrant and attractive space that looks stylish and well designed.
Image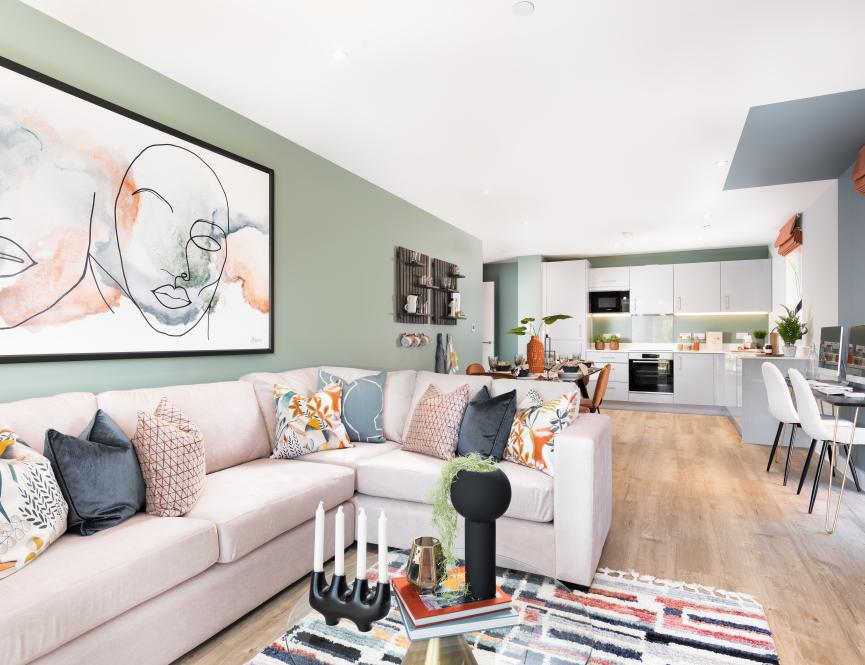 Image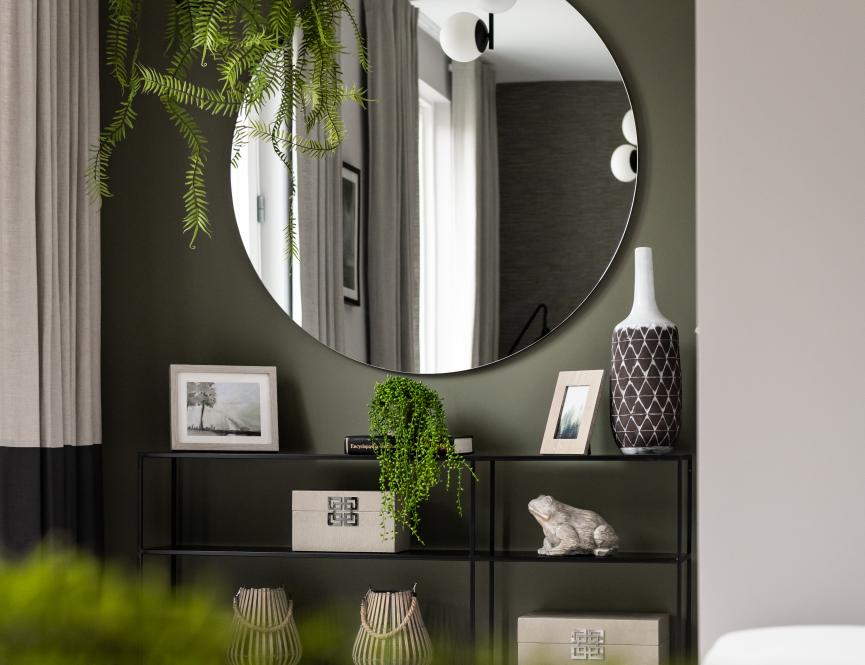 Upcycle. Where possible try to make use of items that you already own. Perhaps you inherited an arm chair from your grandparents or a shabby chic dresser. A great way to upcycle would be to re-upholster the fabric on the chair or paint the dresser and change the handles. This way you can customise the piece to fit your new home whilst also reducing waste and holding onto the memories of your loved ones.
 
Accessorize with plants, artwork, books and scents. Add in personality and familiarity to the space through the use of accessories. Make sure to find a space for the nik nacks you've collected whilst travelling or artwork and photos that have sentimental value, not only are these conversation starters but they also help to make a space feel more eclectic. A house should feel like a home.
Looking for inspiration?
We have a number of show homes open to view, visit www.hill.co.uk for further information or check out our webinar with leading interior designers Suna. Here, they discuss the transformation of the Davenport Villa at Mosaics.