5 ways to help your mental health through the power of interior design
Image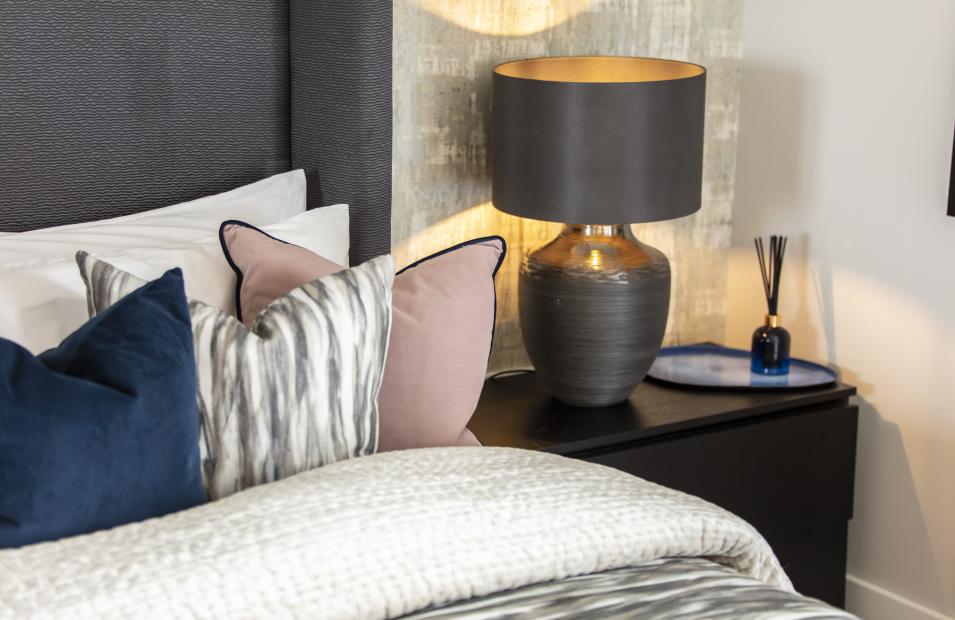 There is no one sure-fire way to improve mental well-being, but rather an accumulation of many small elements such as diet, exercise, fresh air, human interaction, mindfulness, and your surroundings.
What works for one person might not work for all. However, home is where the heart is, and home is where happiness begins, so an interior designed with your happiness in mind could have significant effects on your everyday life.
Look around your house; does it feel like home? Do you have a comfy place to rest, areas to be productive, and spaces to socialise? Here are our top five ways to create a living space that feels like your safe haven and puts your mental health first.
Light up your life
Found to affect our circadian rhythm, cognitive performance, presence of mind, and reaction, interior lighting carries great importance.
Firstly, adjust your lighting according to the use of the space. Bedroom lighting must be warm and soft to relax your mind and body, just like in our show home principal bedroom at Capstone fields. On the other hand, kitchen lighting must be brighter for functional reasons.
Secondly, natural light is a beautiful asset to any home, hence why it is highlighted as a selling point for properties. Helping to reduce symptoms of Seasonal Affected Depression (SAD), draw back those heavy curtains, add mirrors to your walls and let that light seep into your indoor spaces and spike your serotonin.
Image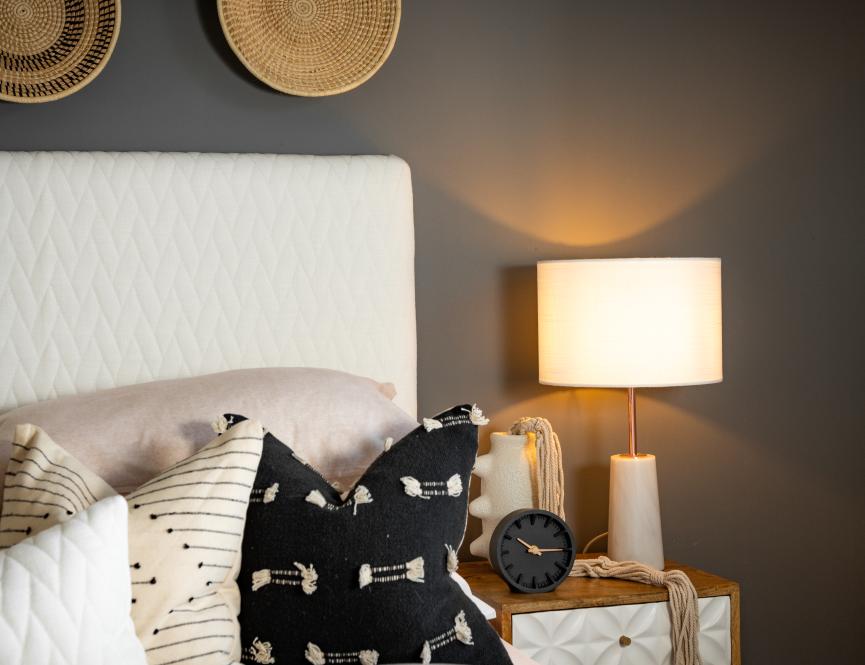 Image
Colour Palettes
To keep your space bright, airy, and relaxing, try a muted colour palette. White, beige, or pastel colours help to reflect natural light, assisting in the restoration of a clean and healthy mind.
If you're feeling bold, splashes of colour can give your space the perfect dose of personality. For rooms where you seek warmth and comfort, opt for warmer tones. Whereas for the spaces you seek calmness and relaxation, cool tones are a smart choice. For instance, our show home at Heartwood Docking showcases a beautifully soothing powder blue to create a welcoming area for your mind and body.
Bringing the outside in
Biophilic design (the human tendency to interact with other forms of nature), is known for improving our mood and mental well-being. Not only does exposure to plants reduce stress levels and anxiety, but they also help to purify the air quality in our homes.
Plants come in all shapes and sizes, and some require less care than others. Find ones that suit your home and lifestyle and see the benefits flood in. Across many of our show homes, we give a nod to the great outdoors through indoor plants, like this Majesty Palm at Knights Park.
Image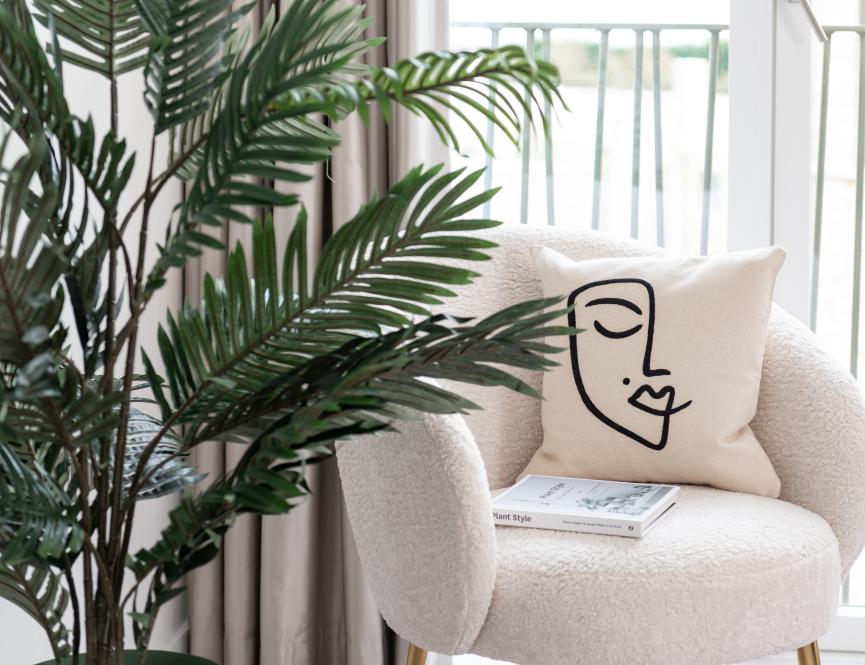 Image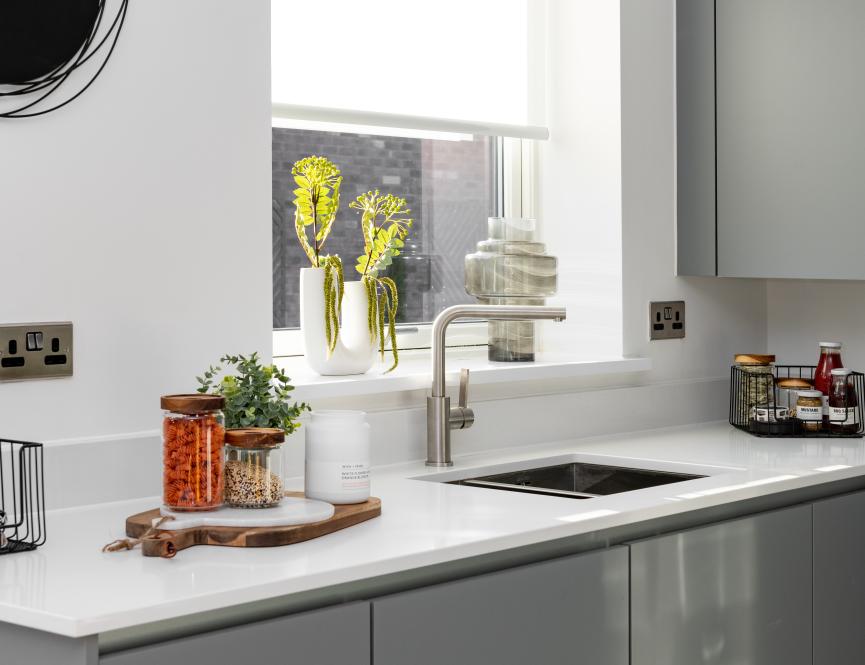 Simple Spaces
A clear home can more often than not, be the driving force for a clear mind. Minimalistic interiors ensure that every piece of furniture has a purpose, avoiding the over-crowded look known for causing anxiety, lack of sleep and loss of focus.
Simple spaces are also low maintenance. Cleaning is easier when you don't have excessive design accessories as obstacles. Our show home kitchen at Marleigh highlights how a minimalistic worktop can enhance the feeling of zen in your home.
Comfortable with company
Depending on your home life, you may feel isolated or lonely at times. Creating spaces around your house to welcome friends and family is essential for your well-being. If these spaces are comfortable and inviting, it will only make your nearest and dearest more eager to visit.
Whether you prefer gathering on the sofa, or around the dining table, these spaces exist as a reminder that contact, and comfort are only a phone call away. This stunning table-scape from The Hawthorns is perfect for hosting an evening of delicious food and drink with those you love the most.
Image