It's Time to Talk.
Image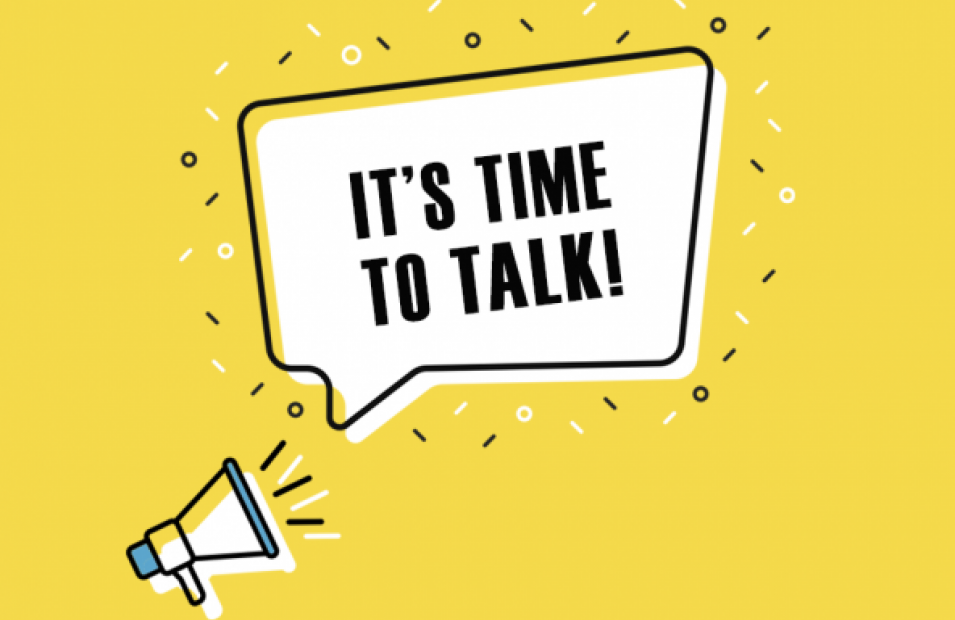 Time to Talk Day is the nation's most important mental health conversation. Taking place this Thursday, 3rd February 2022, it's the day that friends, families, communities, and workplaces come together to talk, listen and change lives.
Here are some helpful ways to start a conversation about mental health.
1. Ask twice: Research shows that 'How are you?' can often prompt no more than a meaningless exchange. The simple act of asking again, with interest, shows a genuine willingness to talk and listen. If you're worried about someone, the next time they say they're okay, try asking 'How are you really?' or 'Are you sure you're ok?'
2. Ask open questions: We can worry about prying about mental health, but it's better to ask available questions. It might help someone open up, showing that you care. Some questions you can ask are: 'How are you feeling, at the moment?', 'How long have you felt like this – is it an ongoing issue?', 'What does it feel like?', 'What kind of thoughts are you having?' and 'How can I help?'
3. Keep conversations small and informal: You don't have to set aside hours to chat; 10 minutes may be enough, but make sure you aren't distracted. Perhaps turning off your phone and minimising other distractions will help you focus on the person and what they might need. Talking when cooking or walking can take the pressure off – it doesn't need to be a formal sit-down conversation.
4. Help them see they're not alone: If you know someone else who has struggled with their mental health, talking anonymously about their experiences might be a good way of starting a dialogue, or you could share your own experiences, remember the main focus of the conversation is on them and not how you would deal with situations
5. Don't try and fix it; listen well: Resist the urge to offer quick fixes, which can often lead to people feeling dismissed. Generally, being heard is what people want, and it is usually enough. Feeling listened to and listened to creates a space where people can start to make sense of their experiences and choose what to do next. Give the person your complete focus and listen without interrupting. Listen to their words, tone of voice, and body language — all will give clues to how they are feeling. Accept them as they are and respect the person's feelings, experiences, and values, although they may be different from yours.
6. Depersonalise the situation: It might be easier to talk about a hypothetical event than ask direct questions about feelings or speak about your own. For example: 'work can be really stressful at the moment, can't it? This can permit people to talk about their own feelings on the matter. 
7. Be knowledgeable about the support services available: Perhaps offer to do some research with them or on their behalf and then give them some options to choose from. Encouraging someone to contact their GP is a good place to start or talk to other people they feel can support them. There are many helplines available, but if someone's confidence is low, an offer of support to get some help might be very welcomed and ease the pressure.
8. Keep the conversation going: Keep your body language open and nonconfrontational and encourage people to continue what they want to talk about by reassuring the phrase, 'Go on, I'm listening, 'I'm here to listen' and reassuring nods and comfortable eye contact. Having these conversations online might feel a little impersonal, so paying particular attention to how you are responding will help keep the conversation flowing. 
9. Look after yourself, too: Choosing to talk can make a real difference to someone's life, but it can also bring up difficult things that people may not have spoken about before. If you or someone you know might need support, organisations like Mind, Rethink Mental illness, and Samaritans provide guidance and advice for anyone in distress. 
Finally, it's essential to be patient. We can never force someone to open up about their struggles, and no matter how hard we try, some people might not be ready to open up and will need to do so in their timeframe. Remember that you have wanted to talk to them may make it easier for them to open up another time.
Please join us to start conversations about mental health and help end the stigma. Talking about mental health is not always easy, but creating a conversation doesn't have to be awkward, and being there for someone can make a huge difference.