Team Hill take on the Three Peaks Challenge
Image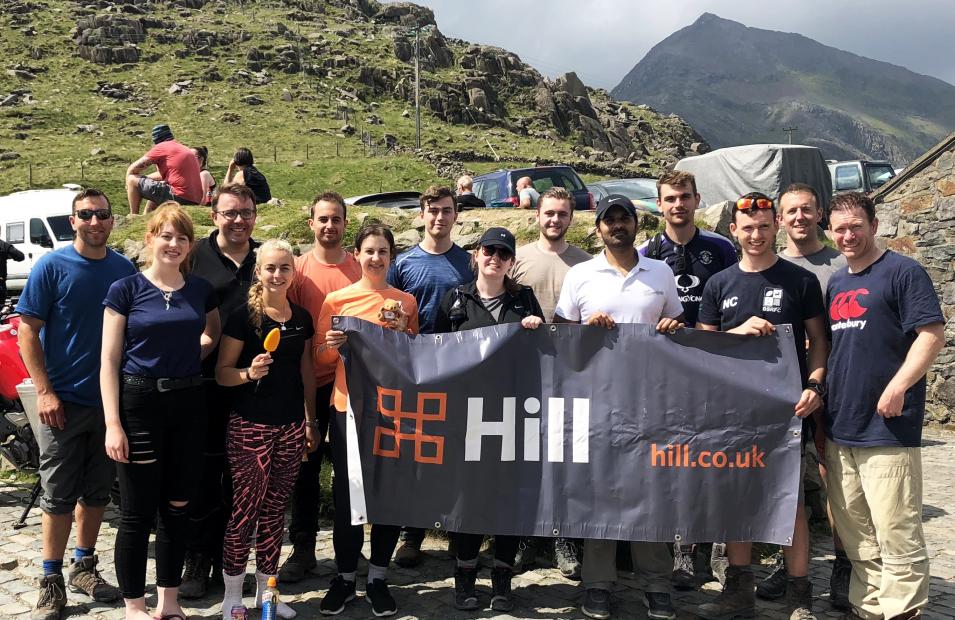 Over the weekend, 14 Hill colleagues set out to take on the highest peaks in Scotland, Wales and England, hiking over 23 miles with the total ascent more than 3,000m high.
The team agreed to take on the challenge to raise money for the housing and homelessness charity Shelter – and we are absolutely delighted to announce that so far, the team have raised over £11,500!
The team started the challenge at Ben Nevis, having travelled up to Scotland the day before. Ben Nevis is the highest of the three peaks, standing tall at 1345m. Despite the training regimes the team undertook in preparation for the challenge, the team underestimated the time it would take to complete, and faced several obstacles including poor visibility due to cloud cover, a slippery snow field, a hailstorm and an unfortunate stomach bug.
The next stop was Scafell Pike, which at 978m high is the highest peak in England. The team arrived at the base of the peak at 7.30pm and set off with pace to ensure that they reached the summit before sunset. The team took the peak in two groups, although there was only one GPS tracker amongst all 14 Hill members. Both were able to reach the summit of the peak, with the second group ending up on the terrifying Mickledore route, which follows a steep and rough gully – this climb turned into a scramble uphill with rocks and shingle constantly moving underfoot, and a shuffle downhill on tough terrain to avoid injury.
After attempting to get some sleep to the drive towards Snowdon, the team had another early morning start, with a final ascent of 1085m remaining. Setting off from Pen-y-Pass, the team took the rocky Pyg track towards the summit, and the longer Miners track back down. The Miners track started with a challenging steep descent followed by a smoother, windy track around the lakes. The final complication the team encountered was a heard of cows blocking the route, and so the team had to navigate through the heard to finish the course, and the challenge itself.
The team of 14 were all pushed to their limits both mentally and physically across the weekend, but all proved worthwhile thanks to the amount of donations made to Shelter. The contribution to the charity will help make a difference to the 60,000 families with children who are currently homeless or living in temporary accommodation. We would like to take the opportunity to thank everybody who has contributed to the team's impressive total.
If you would like to donate, you can do so here: http://bit.ly/Hill3Peaks