Hill Marshall LLP secures accelerated delivery funding for Wing, bringing 1,300 homes to Cambridge
Image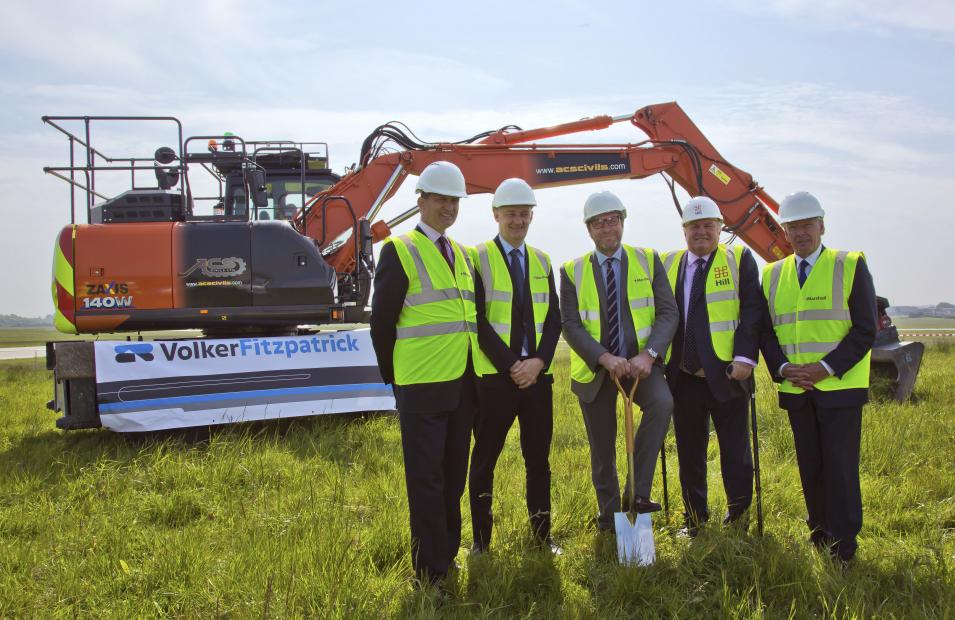 Hill Marshall LLP, a joint venture between Hill and another of Cambridge's leading family-owned businesses Marshall Group Properties, is pleased to announce that we have secured a funding deal with Homes England to accelerate the delivery of 1,300 homes in Cambridge.
Wing, the new development, will be delivered on 160 acres of brownfield land owned by the Marshall Group, with a 10-year loan worth £22.4 million drawn from Homes England's Home Building Fund (HBF). The HBF helps unlock or accelerate the delivery of residential and mixed-use housing developments through both development loans and loan funding for the infrastructure needed to prepare land for development.
The loan will be used to enable infrastructure works for the entire development, including a strategic drainage network, pumping station, strategic landscaping and delivery of the main spine road. New transport infrastructure will also be delivered as part of Wing and the nearby Newmarket Road will be upgraded to create access to the development.
Homes England are also funding the relocation of the ground running enclosure at the airport – a purpose built enclosure to reduce noise effects from aircraft engineering testing and a key planning requirement to be completed before any houses are occupied at the site.
The relocation of the ground running enclosure will also support the creation of up to a further 1,800 new homes in development sites around the airport.
The funding is being made available in advance of full reserved matters approval being obtained. This allows the first phase of housing at Wing to be delivered up to 18 months ahead of schedule.
The first phase of the development will comprise of 350 private homes and 150 affordable homes, including shared ownership and affordable rent tenures.
Marshall Group and Hill are two like-minded family firms committed to making Cambridge one of the best cities to live in the UK. We are delighted to have secured new funding from Homes England's Home Building Fund for this development in the City – it will ensure we are able to deliver an outstanding new community for local residents in half the amount of time it would normally take. Cambridge has long been established as one of the best places to live in the UK and this new community seeks to add further to the City's success.
A spokesperson from Hill Marshall LLP
At Homes England we're using our land, finance and expertise to speed up the delivery of new homes. This loan through our Home Building Fund is a significant step towards seeing this 1,300 home new community at this key development site in Cambridge become a reality and I look forward to seeing work start on site.
Nick Walkley, Homes England Chief Executive
To commemorate the funding announcement, Andy Hill, Chief Executive of Hill, Rob Hall, Deputy Managing Director of Hill, James Palmer, Mayor of Cambridge and Peteborough Combined Authority, Robert Marshall, Chief Executive of Marshall Group, Richard Howe, Managing Director of Marshall Group and Nick Walkley, Chief Executive of Homes England, attending a signing ceremony at Cambridge Airport recently.
The homes of the first phase of Wing are designed by Pollard Thomas Edwards Architects, and will offer a range of properties including 1, 2 and 3-bedroom apartments and 2, 3 and 4-bedroom houses. The development will also provide a wide range of facilities to support the new community, including sports pitches, a new primary school, allotments and retail and commercial space.
Wing will be extremely well connected, with the new Cambridge North Station just under one and a half miles away. Regular buses to the city centre from the nearby park and ride car park will also be accessible.
Sales at Wing are expected to launch in late 2019, with the first homes expected to complete in the summer of 2020.