Couples favourite holiday destination becomes their new home
Image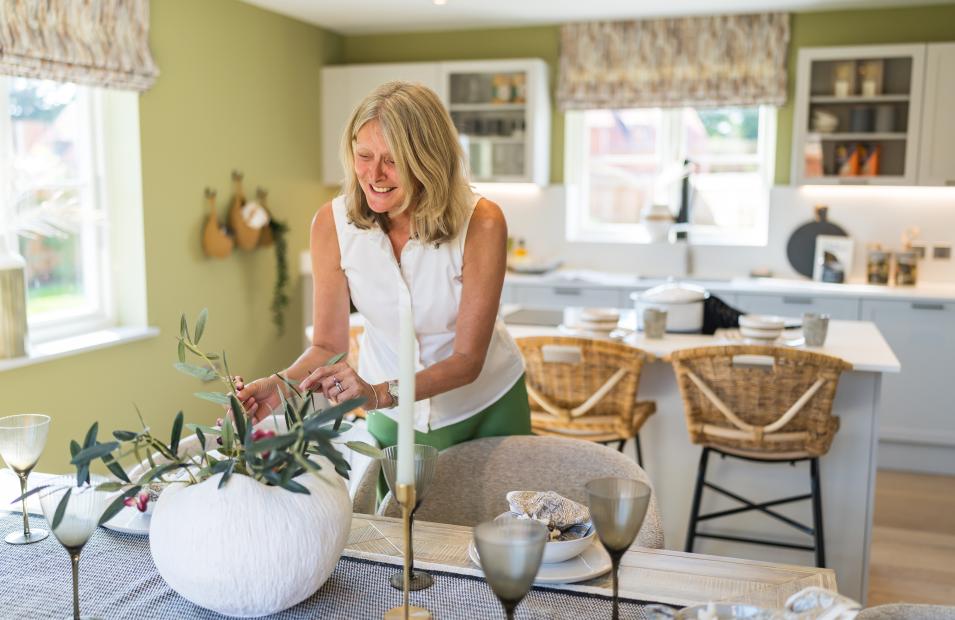 Named as one of the best holiday destinations for 2023, Norfolk is known for its wildlife, beautiful coastline, and verdant countryside. For Julie and Dominique Tropeano, North Norfolk started as an escape from everyday life and eventually became the setting of their new three-bedroom home at Heartwood by award-winning housebuilder The Hill Group, where they can now enjoy the breathtaking scenery all year round.
Having first visited Burnham Market after the pandemic to enjoy a relaxing countryside/coastal break, Julie and Dominique fell completely in love with the area.
Following our first visit to North Norfolk and Burnham Market, we were amazed by the area and returned regularly. It felt so welcoming, and the people here were incredibly friendly and warm, which drew us back every time. We also love fresh fish and enjoy walking along the beach with our three Cavalier King Charles Spaniel puppies. So, when it came to buying a new home, this was the obvious place.
Julie
The couple began their property search in Burnham, but after advice from Norfolk estate agency Sowerby's to look further up the coastline, they expanded their preferred location radius.
Susie at Sowerby's listened to what we wanted from a home and a local area and suggested we look at other locations. Also, we went from wanting an older property, as that was what we were accustomed to, to deciding that a new-build home would better suit us now.
We realised that low maintenance and energy efficiency were priorities. The idea of having a home where we could just come in and everything would be ready, from the electrics to the integrated appliances, was very reassuring. Susie told us about Heartwood, and we were excited to visit the development.
Julie
Heartwood, an exceptional new development nestled in the picturesque village of Docking offering an outstanding backdrop of scenic countryside, is set within 17 acres of superior landscaping.  With a selection of two, three and four-bedroom beautifully crafted homes, its rural location creates a uniquely peaceful setting. Julie and Dominique were originally looking for a two-bedroom home but ultimately opted for three bedrooms to give more space for when their four grown-up children and grandchildren come to stay.
We viewed the large show home, which gave us a great insight into what we could expect from living at Heartwood, and the high-quality appliances and quality of finish are the same for all house types. Initially, we reserved a two-bedroom house, which wasn't ready to move into, and we weren't in a rush, this was fine for us. Whilst waiting, The Morston house types, which had three bedrooms, became available, and Susie invited us to look at these. As soon as we saw them, we said yes!
Julie
The layout of this house is exactly what we want; the garden is south-facing and a great size for our dogs. The home is really energy efficient which is important to us – it has underfloor heating and air-source heat pumps, which helps keep our bills low. It really does feel amazing to call this glorious location home now.
Julie
The development's green spaces match the beautiful surroundings, and there's even an attractive pond here, which is a lovely addition. We've discovered that the local village has so much to offer. There's a local fish and chip restaurant, a popular pub, and a handy convenience shop, and there is still so much more for us to explore in the area. The location is superb for dog walks; there are many different routes, especially along the coastline. Also, within 15-20 minutes, there are ample things to do and see to keep us fully occupied. We particularly like Holcombe and might invest in some bikes as the roads around here are very safe.
Musing over the local area, Julie comments
Our homebuying experience at Heartwood has been a very positive process and we are delighted to have our gorgeous new home. What brought us to this location originally was the local area and the beautiful surroundings, and it hasn't disappointed, having a fantastic home here is a really exciting new chapter for us.
Julie