WiC placement helps cement Ellen's career aspirations
Image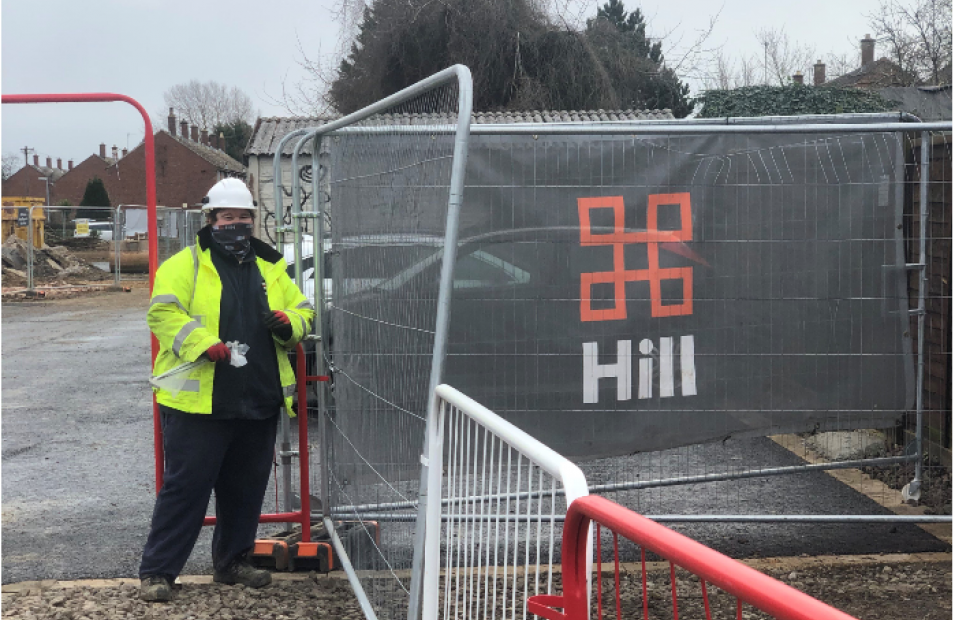 Ellen's interest in DIY sparks her interest in hands-on WiC placement
Ellen attended the WiC Cambridgeshire programme's launch event in October 2019 at Hill's Athena Sales and Marketing Suite following an initial 1-2-1 meeting with WiC via The Papworth Trust.
Ellen received support and encouragement from WiC, Papworth Trust and Clarion Futures to complete her Level 1 Health and Safety and CSCS test throughout 2020. Ellen continued to engage with WiC events during this time, attending a second session at Huntingdon Job Centre to stay connected.
With an interest in DIY, having fitted her own kitchen and following a past placement with The Green Project undertaking groundworks and horticultural work around Huntingdonshire, Ellen was focused on a practical, hands-on role in construction having been long-term unemployed.
WiC worked with Kier who were offering labouring/groundworks placements on their RAF Lakenheath Project in September 2020, although the site was a 90-minute drive away, Ellen was committed to gaining experience and was thankful for the opportunity during what had been a difficult year for practical work placement opportunities. WiC offered 1-2-1 support to assist Ellen with form completion and work placement preparation, meeting her on-site on her first day.
Ellen worked with Kier subcontractor, PR Cranes on a 2-week full-time placement as part of an attendance gang. The placement included working as a team to construct a footpath, take down and relocate fencing, being a banksperson, using the wacker plate to compact footpaths and other site maintenance duties. 
Ellen was punctual, reliable, polite and keen to be part of the team and get stuck into anything we ask her to do. We also found her to be inquisitive about the industry and very hands-on.
Heather Seymour, Site Manager, PR Cranes
WiC visited RAF Lakenheath to evaluate the time spent on the placement and discussed the possibility of employment. Although PR Cranes would have loved to of offered a permanent role, it would not be viable for the cost of travel to site. PR Cranes provided Ellen with a glowing reference and WiC worked with her to update her CV and work on her personal statement and set about brokering a role closer to home.
Working with Hill's Cambridge Investment Partnership team WiC were put in touch with labour agency, Tradeline Recruitment, where Ellen was signed-up and promptly requested by Hill to work as a labourer on one of their Cambridge sites, of which she has been enjoying since. 
I really enjoy it; the people are friendly and thank you once again for helping me.
Emma, Labourer
Ellen has proved herself to be a valued member of the site team, who always shows a willingness to take on any challenge given to her. She is always punctual and shows real enthusiasm for everything she does on site. She has a contagious personality and is a real joy to work with.
Fran Favarulo, Assistant Site Manager
An opportunity was identified for Ellen to progress on the site further by undertaking her Traffic Marshalling course. WiC spoke with Clarion Futures who agreed to put Ellen through her training to aid her progression, which she has now passed.  
It has been a pleasure supporting Ellen who has remained committed and focused despite any barriers she may have faced. I'm over the moon that she has found a long-term, paid placement with Hill doing the practical, hands-on work in construction that she was so motivated to find.
WiC Project Manager