Reaching the highest point of our 100k homes at Rayners Green!
Image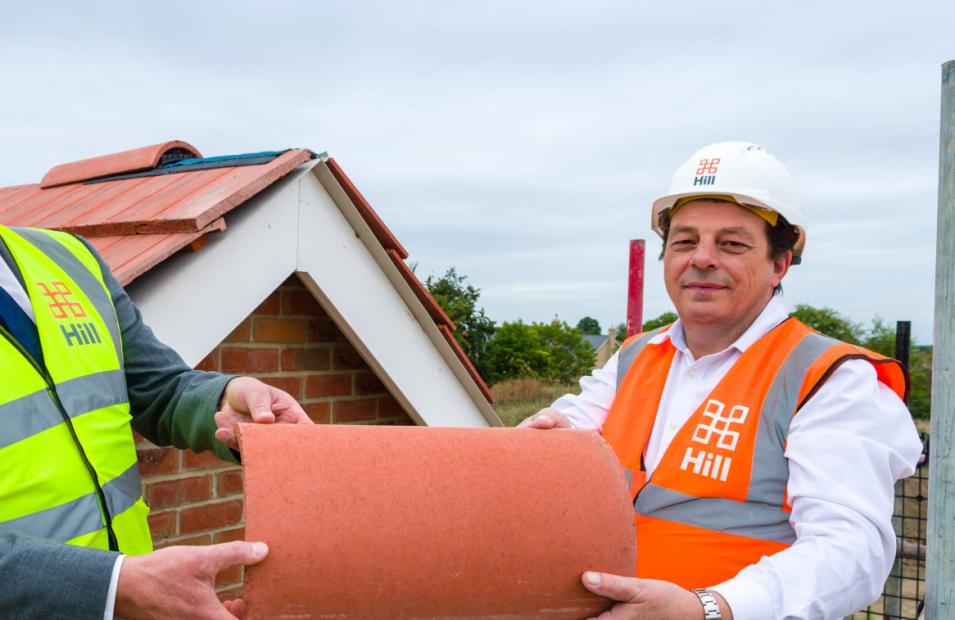 Recently, along with our joint venture partners Scotsdale Garden Centre, we were delighted to host a Topping Out ceremony at Rayners Green in Fordham, Cambridgeshire to celebrate reaching the highest point of the 100k homes at the new development.
In attendance was Mayor James Palmer of Cambridgeshire and Peterborough Combined Authority (CPCA) and Jon Thistlethwaite, Regional Director at Hill.
Rayners Green is a collection of 97 one, two, three and four bedroom houses that is forming a new community in Fordham. It is named after David Rayner who founded Scotsdales in 1968, and has been designed to complement the existing architecture in the village with each of the homes benefitting from characterful touches such as bay windows, brick facades and pitched rooftops. The mix of detached and semi-detached properties offers an array of choice for buyers, and caters for today's modern citizen with contemporary interiors and spacious layouts.
Rayners Green is also the first location to support Mayor Palmer's new £100k homes initiative, a scheme that offers 100%-owned one-bedroom properties for £100k. The scheme offers a combination of affordable deposit and affordable mortgage payments and is designed to give people who live or work in Cambridgeshire and Peterborough a genuinely affordable step onto the housing ladder, while enabling them to live close to where they work. It is part of the Mayor's response to the housing crisis which locks many people out of the property market where they are forced to pay expensive private rents, or are stuck living at home with parents to save costs.
Reaching the highest point of the build is a significant milestone for both joint venture partners and CPCA, and homes will be ready for residents to move in by the end of the year.
We're delighted to have reached this stage of construction here at Rayners Green which has already seen a significant number of sales and been so well received by the public. We're confident the development is going to be a fantastic addition to Fordham, which is already such a thriving community and we look forward to welcoming residents into their new home in the Autumn.
Jon Thistlethwaite, Regional Director at Hill
This is a truly momentous occasion, the celebration of the birth of the first £100K homes.  Thanks to forward-thinking developers such as Hill, we have a model for affordable ownership housing, which is hugely promising.  We want to now press on and turbocharge this unique scheme, and everyone in Cambridgeshire and Peterborough can play their part by supporting it because the need is everywhere and the need is urgent. It is only through innovative and status quo challenging projects like £100k Homes will we be able to extend genuine opportunity to all residents of Cambridgeshire and Peterborough.
Mayor James Palmer
As a family-run business that has been operating here in Fordham for over 20 years, Rayners Green is a welcome addition to our wonderful village. It is also fantastic that the first of the £100k homes will be here, which offers a great stepping stone for people struggling to buy their own home. It's a scheme of utmost importance and we're proud that our partners Hill are on board with supporting the Mayor's ambition to tackle the current housing crisis.
Caroline Owen, Managing Director at Scotsdale Garden Centre
Once complete, Rayners Green will also be home to retail facilities and a variety of green, open spaces for residents to enjoy.
To find out more about the development, or to register your interest, visit www.raynersgreen.co.uk or call 0808 168 7900.
Find out more information about £100K Homes, including how to register interest and support, via the website www.100khomes.co.uk
Image