New family homes in Fulbourn get underway!
Image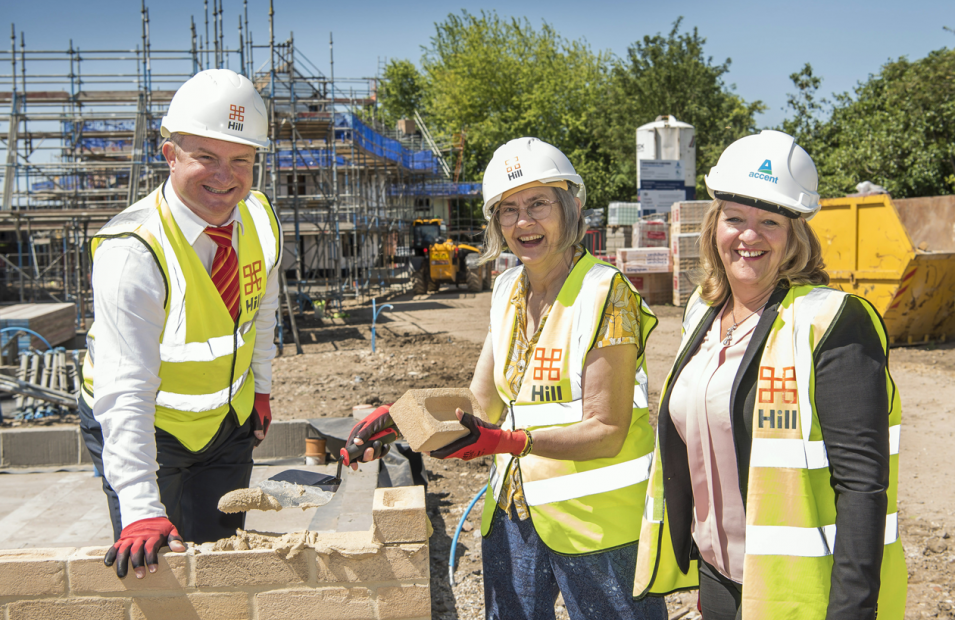 Peterborough based housing association Accent has laid the first bricks in a new development of affordable new homes in Fulbourn, South Cambridgeshire.
Working closely with development partner Hill, one of the country's top housebuilders, and South Cambridgeshire District Council, the 14 new homes will provide much needed affordable housing for local families. The partnership worked closely together to design a scheme which meets the housing needs of the local community, whilst considering the character of the site within its rural setting.
This development will deliver a selection of one bedroom apartments and two and three bedroom houses. Of these, nine properties will be for affordable rent and five for shared ownership. These new homes are being built to high energy efficiency standards and include photovoltaic panels and thermal building fabrics which allow heat to be retained in the winter and kept out in the summer.
The homes have been part-funded by Homes England and will be allocated to residents with a local connection in conjunction with South Cambridgeshire District Council.
The homes are being developed using modern methods of construction which have enabled the timber frame structures to be constructed in a matter of weeks. This has allowed the delivery of the new homes to be complete by spring 2020.
Providing affordable homes in this area is extremely important as the average house costs just under £600K to buy, a price tag which is out of the reach for many local families.
Accent's Executive Director of Development & Growth, Sarah Ireland, is delighted with how the building work is progressing
Accent is no stranger to South Cambridgeshire. In 2014, the association worked with the district council on the nearby Fulbourn regeneration project, which involved replacing over 200 1960s problematic concrete built homes with over 250 new homes, 167 of which were affordable homes for local families.
We are very grateful for the opportunity to work with the district council, they recognise the need to provide affordable housing, and have been very supportive of our plans.
Ms Ireland
Hill is delighted to be working with Accent to deliver these much-needed affordable homes in Fulbourn. We have a strong reputation for working in partnership with housing associations across South Cambridgeshire and we have delivered over 500 new mixed tenure homes for the area, 82 per cent of these properties were affordable. We look forward to welcoming the new residents to this community in the spring.
Rob Jack, Regional Director at Hill
I was really pleased to go and lay some bricks as part of this valuable new development of homes that will be affordable for local people to live in. Helping deliver these types of homes is one of our top priorities. As a Council, we've worked hard to get all the parties together and bring these new homes forward. Importantly, these homes will be affordable to run, meaning their new occupants will be left with a little more money to live life and have fun. I'm very impressed with how quickly they are coming out of the ground and pleased that local people trying to get on the housing ladder will soon have this helping hand.
South Cambridgeshire District Council's Lead Cabinet Member for Housing, Cllr Hazel Smith