London's first dedicated new campus for fashion, innovation and sustainability launches at Fish Island Village
Image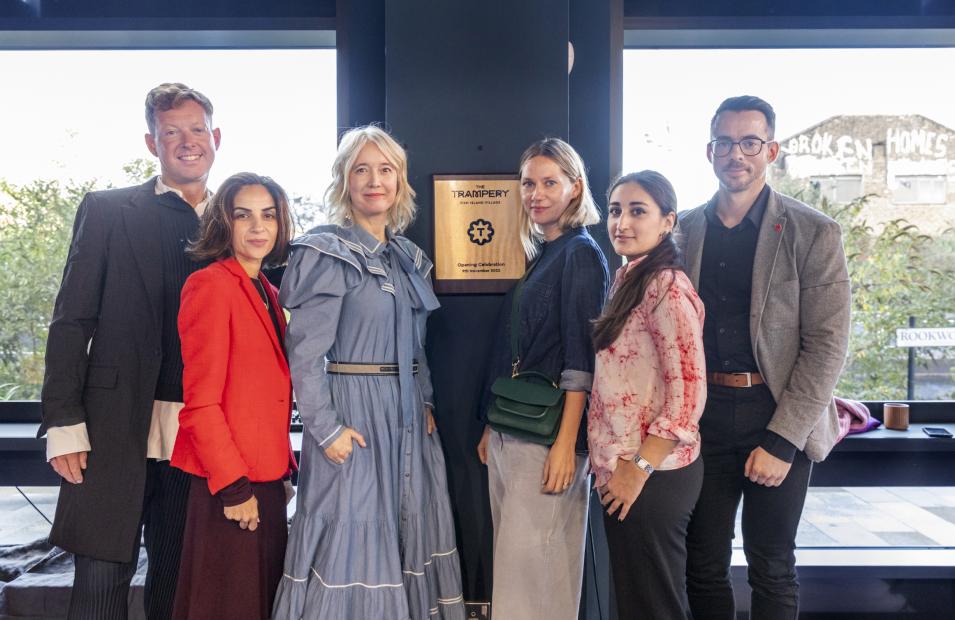 Fish Island Village, a major mixed-use neighbourhood in east London, reached its final milestone today with the unveiling of workspaces managed by the social enterprise The Trampery, and the arrival of London's first dedicated new campus for fashion, innovation, and sustainability.
Located within one of the 2012 Olympic Fringe areas opposite Queen Elizabeth Olympic Park, Fish Island Village is a mid-rise development comprising 588 mixed-tenure dwellings (25% of which are affordable) with 5,522m² commercial space across a 2.23-hectare site.
A joint venture development between Peabody, one of London's oldest and largest housing associations, and The Hill Group, an award-winning housebuilder, Fish Island Village has been delivered in phases, with residents moving in since 2018 and the first workspace tenants taking occupation of the first seven studios in 2019. Peabody has invested in placemaking at Fish Island Village for the long term as freeholder and will continue to manage the development going forward.
Image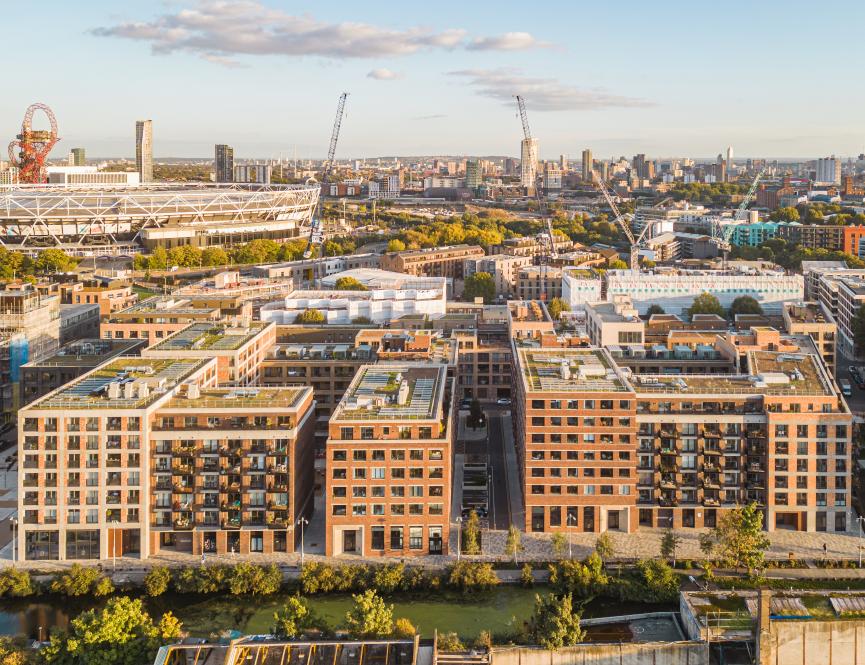 Image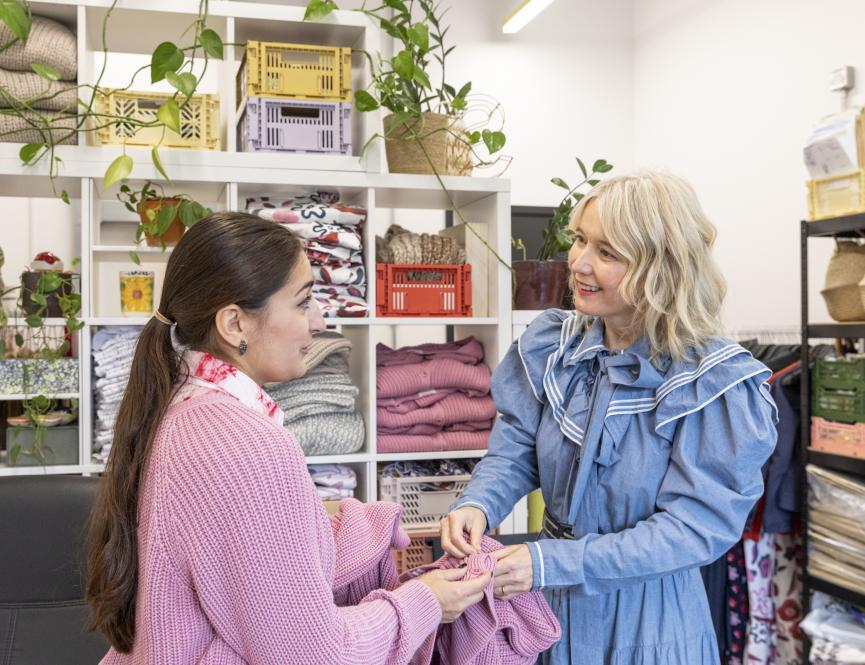 A major brownfield regeneration project to the south of Hackney Wick, in a part of the
city undergoing neighbourhood-wide densification, the development has transformed a site of disused single-storey distribution warehouses with a collection of mid-rise buildings interspersed with new public streets and spaces, opening up over 200 metres of previously inaccessible canal frontage to the public.
The vision for the site, which has been master-planned by Stirling Prize winner Haworth Tompkins, was to create a permeable piece of the city which draws on the area's heritage as a site of industry and artistic production, combining homes and affordable studio spaces which support London's creative community.
Designed to reflect Hackney Wick's industrial heritage while heralding the area's urban transformation, the predominantly brick and precast concrete development aims to achieve the robustness and permanence of the area's historical warehouses, while creating a legible public realm composed of public squares, yards and tree-lined streets. Workspaces are located across the whole ground floor of the development, each benefitting from floor-to-ceiling glazing to promote collaboration and create a thriving manufacturing hub.
Image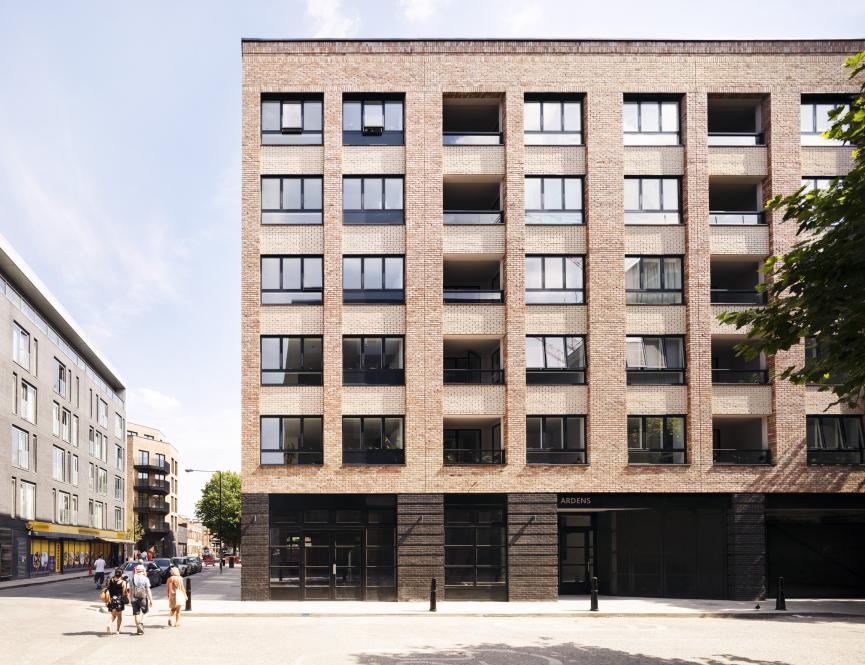 Image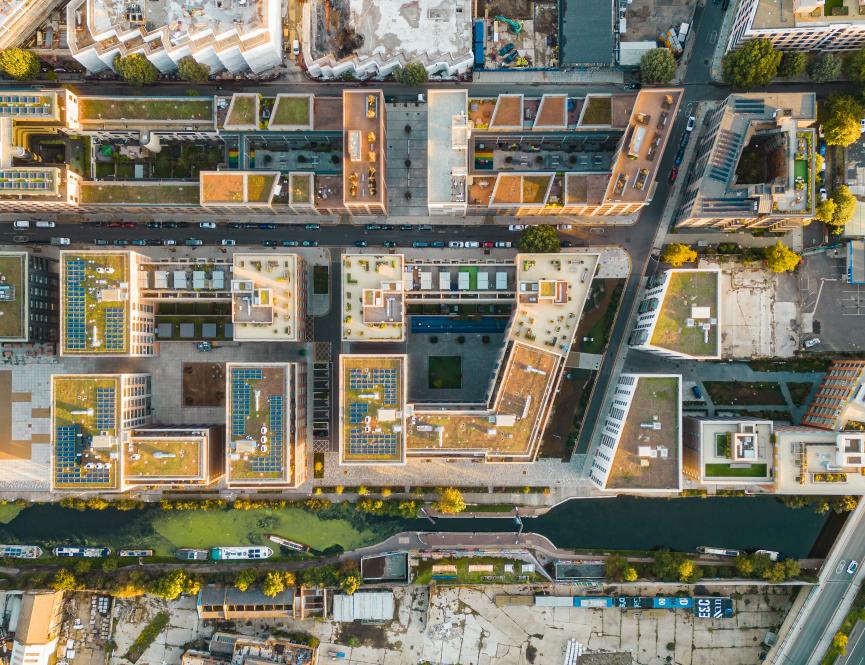 Within the masterplan three individual teams of architects worked on the detailed design of the buildings; Lanterna (by Lyndon Goode Architects), a stand-alone building facing onto a new public square comprising 16 dwellings and a ground floor restaurant; Monier Road (by Pitman Tozer Architects), three blocks comprising 71 homes and 7 workspace studios; and Neptune Wharf (by Haworth Tompkins), made up of 17 individual blocks forming three clusters, comprising 501 dwellings and 56 commercial and workspace units, opening up into a sequence of courtyards.
A rigorous architectural language and material palette of brick and precast concrete have been applied across the site with variations in façade treatments to create a sense of diversity. All homes have private amenities in the form of terraces, balconies or winter gardens in the blocks which overlook the A12. Six of the blocks feature communal sheltered roof terraces, with planting and food-growing allotments.
The ensemble of the new sustainable buildings brings the site sharply into the 21st century by embedding modern environmental strategies such as photovoltaics, future connection to a district heating network and mechanical ventilation with heat recovery.
Nine blocks of workspace facilities are being delivered by The Trampery as a campus for sustainable fashion businesses, with a tenth block dedicated to small creative businesses already established in Hackney Wick. The Trampery's Fish Island Village campus is a key project within Hackney Wick's Creative Enterprise Zone, and an anchor element of the Fashion District – a new consortium of the London College of Fashion, the British Fashion Council and The Trampery.
Image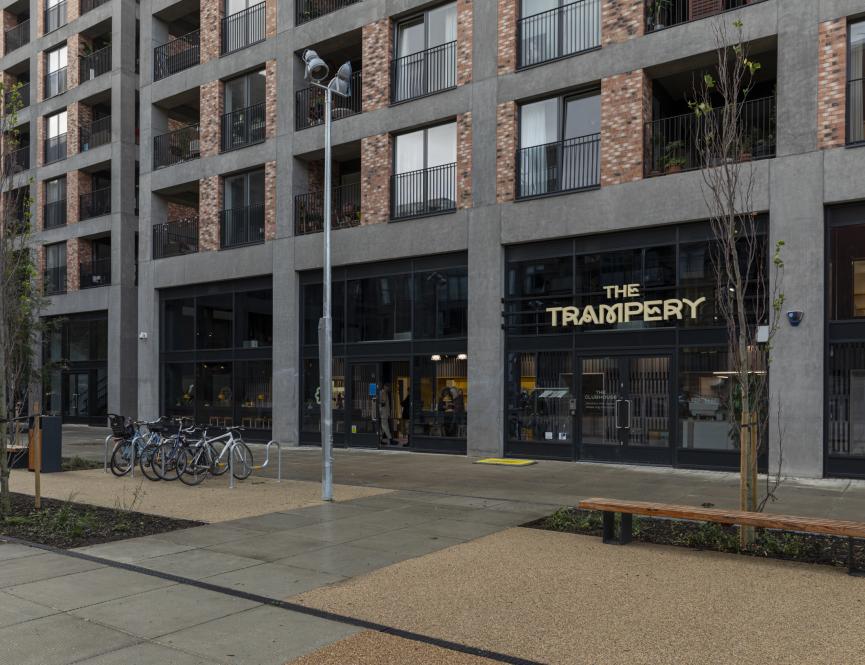 Image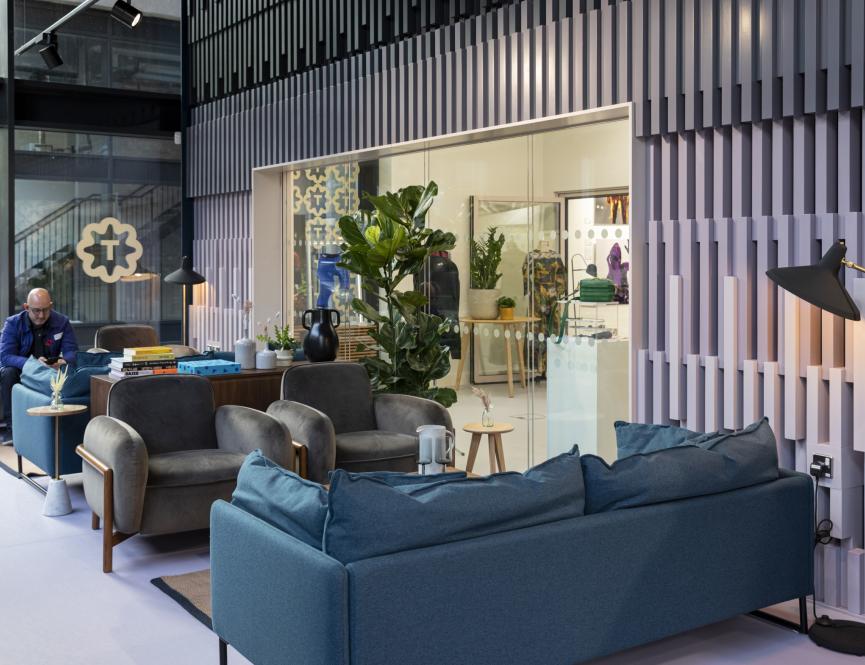 Emerging practice Bureau de Change has designed the fit-out of The Trampery studios. The practice developed a design language of interlacing timber structures and an ombré palette that reference the history of silk weaving and dyeing in the area. The facilities include 63 flexible studios, a 30-desk co-working space, a fully-equipped manufacturing suite, a restaurant and café, and an event space for catwalks, all benefitting from industrial-scale floor-to-ceiling heights.
Studios have been designated for growth-stage fashion designers and makers, and labels that have come through earlier fashion support programmes and are poised to become job-creators and exporters. As well as providing low cost and subsidised workspaces, The Trampery runs dedicated training and support programmes for fashion businesses working at the site, a scheme which has been supported by the LLDC.
The development has been designed to create a dynamic live-work neighbourhood that encourages walking, wandering, and occupation. The arrangement of the 21 blocks creates a new public square – Lofthouse Square – and a pocket park at Smeed Gardens, and opens up a new pedestrian route along the canal. 'Written in Water', a specially commissioned public art installation by local artist William Cobbing, provides a navigational aid, pause point and playful moment of discovery for residents, workers and visitors to the area. It is a constellation of twelve cast plates, redolent of manhole covers, integrated into the paving and embossed with quotes or local stories, creating a portal to the area's past.
Image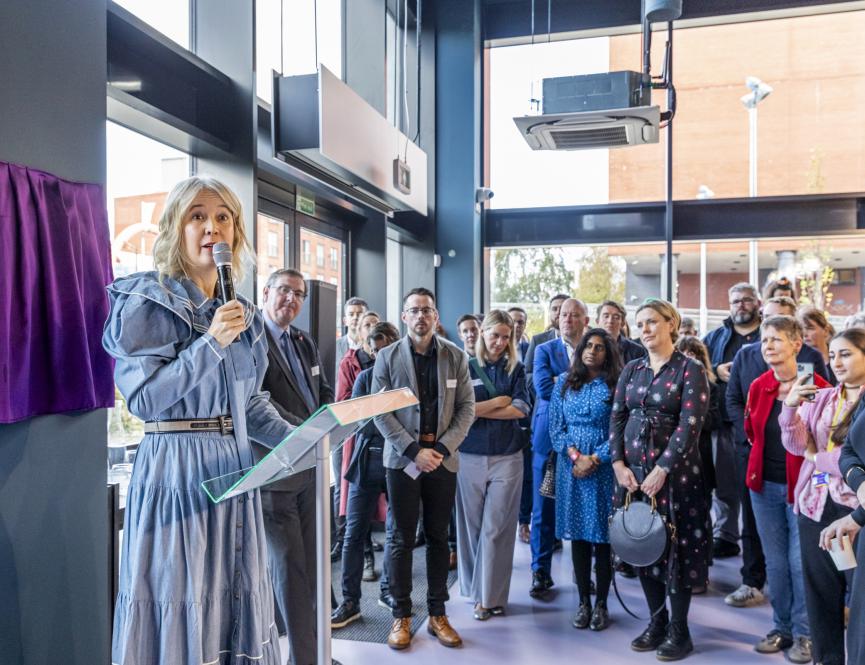 The opening of The Trampery is the culmination of a 6-year journey for us and our joint venture partners, Peabody. This milestone is far from a finale here at Fish Island Village, indeed it marks yet another beginning for the dynamic creative community in their new facilities.
I feel immense pride for everyone that has been involved in this project; we have taken a neglected part of London, breathed in new life and created a beating heart that leaves a legacy for residents and the local community.
Andy Hill, Group Chief Executive, The Hill Group
It's immensely rewarding to see Fish Island Village come to life, and even more powerful after a national lockdown which taught us how important it is as Londoners to feel connected to the neighbourhood we live and work in.
Graham Haworth, Director, Haworth Tompkins
From day one the team at Haworth Tompkins has been at the absolute heart of the project. Their creativity, attention to detail, generosity and care for all those who would live and work at Fish Island Village has been inspiring. 
Charles Armstrong, Founder & CEO, The Trampery