Hill and Newlon celebrate with topping out at Leyton development!
Image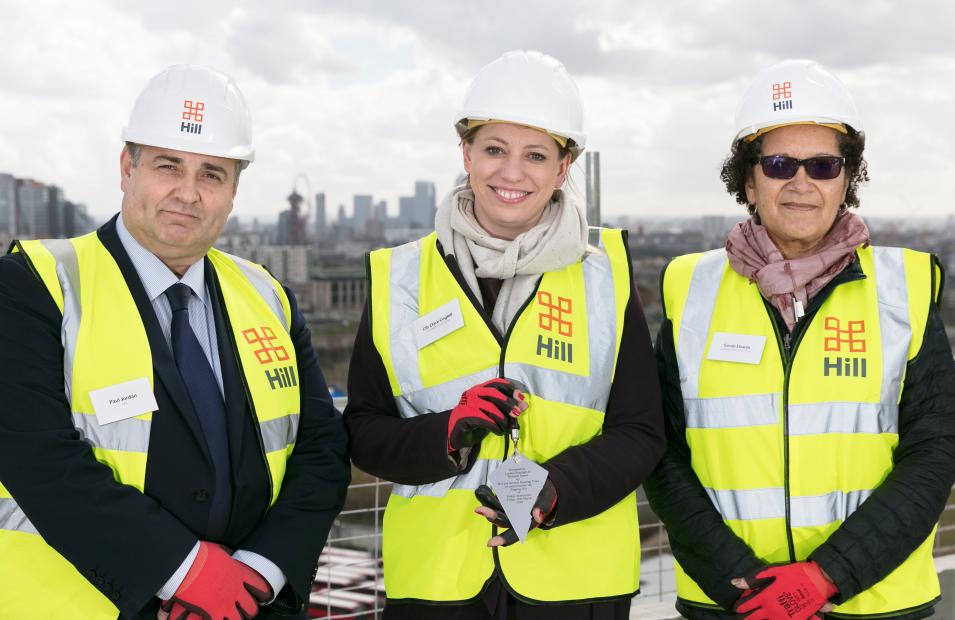 Last week, we were delighted to take part in the topping out ceremony of Siskin Apartments in Leyton, East London.
The development marks our first project with Newlon Housing Trust, a charitable, not for profit housing association which provides over 8000 affordable homes across north and east London.
The 16 storey building is located on the edge of the Olympic Park and close to the centre Leyton, and will provide 84 new apartments to the area – 72 of which will be affordable new homes for Newlon, and 12 will be for private sale.
The overall development will include three apartment blocks, with the tallest reaching 16 storeys in height, which will be complemented by low rise family housing, as well as landscaped communal areas. The development is scheduled to complete in early 2019.
The event celebrated reaching the top floor of the development, and Councillor Coghill was presented with a commemorative trowel at the ceremony.
We are delighted to be working on our first project with Newlon to bring both affordable and private sale homes to Leyton. London is a key growth area for Hill and having previously worked in partnership with Waltham Forest Council on a number of flagship regeneration projects in the capital, we are pleased to be working alongside them again to build more sought-after homes for the local community.
Paul Jordan, Regional Director at Hill
We are really proud of this landmark new scheme, which will provide high specification new affordable housing for local people and in our 50th anniversary year help us to raise additional funding for more affordable homes.
Sarah Ebanja, Chair of Newlon Housing Trust
I am delighted that this exciting new development will bring more new affordable homes to this part of the borough. I would like to thank Hill and Newlon for all their work on this project, which will create a major new landmark close to the centre of Leyton and on the edge of the Olympic Park. I am also proud to see so many women at this event who have contributed to this ambitious construction project.
Councillor Coghill, Leader of Waltham Forest Council
To learn more about our work in partnerships, visit our website today. Alternatively to learn about Newlon and the new homes, visit their website here.