Former rough sleepers look forward to Christmas in new homes donated by our Foundation 200 programme
Image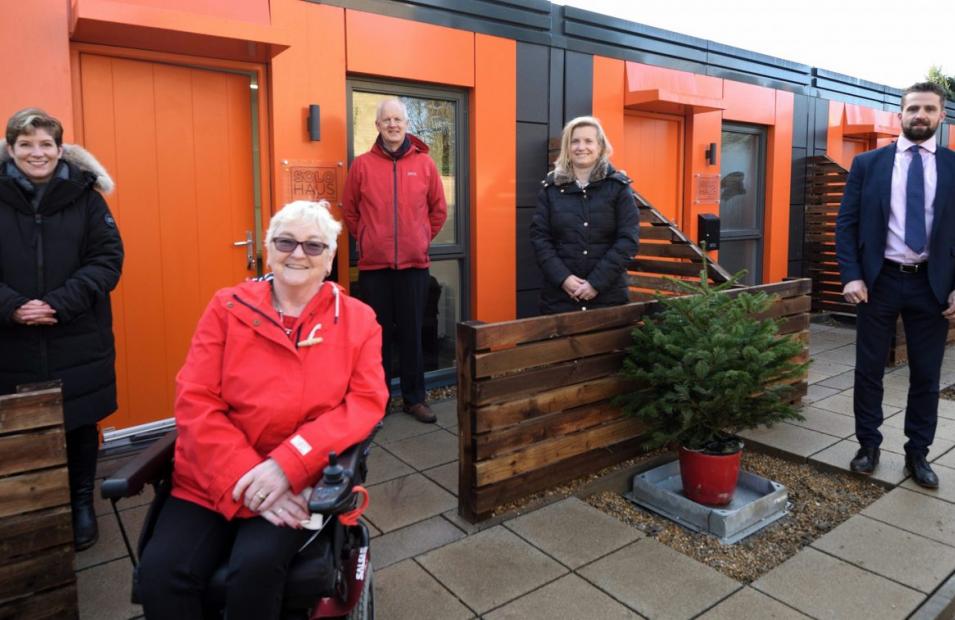 We are extremely proud to have donated new modular homes to a project in Cambridge – giving four former rough sleepers a very special Christmas to look forward to after they move into a place of their own this week.
These cutting-edge homes for single people with a history of homelessness have been designed and donated by Hill and installed on land owned by Cambridge City Council in Chesterton.
The homes have been gifted to local homelessness charity Jimmy's, who will manage them and work with the council and other local organisations to provide support and accommodation to people who need it most.
The modular homes are the first to be completed as part of our Foundation 200 programme, launched in 2019, to mark the company's 20th anniversary. This is a £12m initiative to help provide a solution to homelessness by delivering 200 specially designed and fully equipped modular homes over the next five years. We will be donating more homes in the future in Cambridge on other council-owned sites. Hill has already gifted a modular home to a project being run by the charity Allia in Cambridge to provide accommodation for homeless people in the city.
The residents moving into the modular homes will live there temporarily as a stepping stone to more permanent forms of accommodation. Jimmy's will provide comprehensive support to help them settle in and integrate fully with the local community.
Each individual home was built in a British factory and delivered fully furnished to the site in Chesterton. They are designed to Future Homes Standards and built with a BOPAS accreditation, to last 60 years with safety and security in mind, featuring steel frames and walls, blue roofs and acoustic and thermal insulation that exceeds building regulations. The homes have running costs of less than £5 a week and are furnished, fully equipped and ready to move into.
We have designed the modular homes as part of the Foundation 200 programme in partnership with a number of leading homelessness charities, to ensure that they can meet the needs of homeless clients who may not have had continuous accommodation for some years.
This is a very special moment for Hill and all the consultants, suppliers and trades who have generously donated materials and time to our programme to make a real difference to people who have been homeless. Cambridge City Council and Jimmy's have provided invaluable support to make this happen and we wish the first residents moving in the very best for the future.
Tom Hill, Regional Director, Hill, said:
It's wonderful to see residents moving into their own purpose-built homes before Christmas. These modular homes are a real game-changer for tackling rough sleeping and homelessness, and we are delighted with the first results of this ongoing project with Hill and Jimmy's that will give more of our homeless residents a fresh start and a place to call their own.
Cllr Richard Johnson, Executive Councillor for Housing, said:
Building high quality homes of this kind is a pioneering approach to tackling homelessness in the UK. We are very grateful to both Hill for donating the homes to Jimmy's and to the Council for providing the land. Giving someone a home is one of the most life-changing things you can do for someone, and these four new homes have the power to change the lives of four people for the better. Jimmy's has remained opened 24/7 throughout the pandemic, with our services still operating – a combination of a fantastic, committed team of staff and volunteers, and the support of local people, organisations and businesses
Mark Allan, Chief Executive of Jimmy's Cambridge, said:
Jimmy's and the council have worked with a range of partners throughout the year to deliver support for people faced with homelessness. Since the start of the coronavirus pandemic in March, the city council has made 200 offers of emergency accommodation to people as part of its work to find longer-term solutions for all vulnerably-housed Cambridge residents.
At the peak of the pandemic more than 140 people were placed in free accommodation with daily food deliveries. More than 70 people have since moved into longer-term housing, while around 60 remain in emergency accommodation. Everyone given emergency accommodation since the start of the pandemic who is willing to work with the council has been, or will be, offered secure accommodation in a range of properties.
As in previous years, the council has also in place extra help for winter under the Severe Weather Emergency Provision (SWEP). SWEP is implemented at 36 hours' notice when the weather turns colder and it is funded by the city council.
Learn more about our Foundation 200 programme here.
Image