Employee becomes customer with dream home at Mosaics!
Image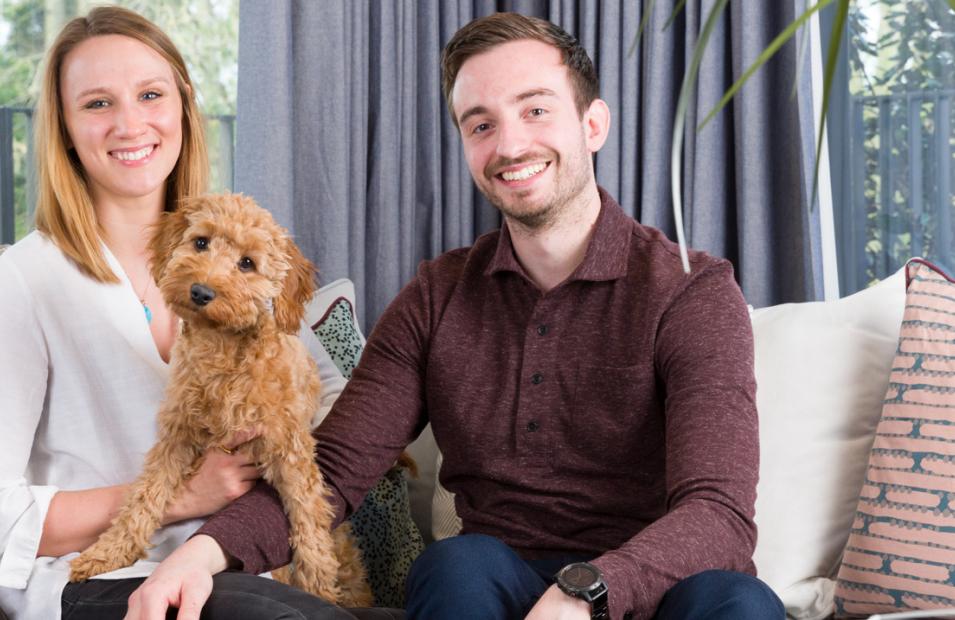 One of our talented development managers Mitchell and his partner Lauren were like many other young couples in the UK – saving for a deposit so they could upgrade from their rented apartment in Oxford to invest a property they could call home for themselves and their cockapoo, Penny.
With Oxford named as the best UK city for first time buyers, the couple had their heart set on remaining in the area.
Having worked with Hill for eight years, Mitchell has been involved with Mosaics – one of our flagship developments in Oxford which forms part of Barton Park, which is part of the NHS Healthy New Towns initiative. As part of the initiative, the overall development offers plenty of green spaces including Mosaics' Linear Park, and has been designed to promote healthier living.
Although originally not planning to purchase a new-build property, Mitchell knew he could trust in the high-standard of homes built by Hill, and decided they would take the opportunity to visit the show home as a potential customer.
I joined Hill as part of the management trainee programme when I was 18 and have been saving for my own home ever since. We knew it was the right time to start looking, and although we were not considering a new build initially, Mosaics was an option we couldn't ignore. Lauren suggested we go and take a look at the show apartment to get an idea of what we could expect from a new build – once we sat down and spoke to the sales teams about our options, we knew we had made the right choice.
Mitchell
With Help to Buy available on properties below £600,000, Mitchell elaborated why the couple decided to purchase their new home with the scheme.
We didn't know much about Help to Buy and if this was applicable to us. We sat down with the sales team and had a detailed chat about what the process entailed. A 5% deposit was required with Help to Buy, which was so much more achievable for us. Everything was included with a new build, from the integrated appliances to underfloor heating, compared to a second-hand property that would need a lot more work done to it further down the line."
Mitchell
As part of the couple's lifestyle requirements, Oxford offers it all. From great connectivity and community presence to suburban-city characteristics.
The couple explained how Oxford is becoming fast-appealing to first-time buyers such as themselves
Oxford is ideal for younger professionals. It has a great pub and bar culture which we both enjoy. I particularly enjoy the theatre and cultural scene here in Oxford. It really does feel like a city and a town. I couldn't recommend settling down in Oxford more, and Mosaics is the perfect option to make the most of living in this great City.
Mitchell & Lauren
Bordering the picturesque countryside, Mosaics also adopts an identity reflective of modern Oxford. Alongside the high specification and quality of the homes, it was the community feel and countryside setting that appealed to the couple:
Moving to Mosaics has changed our lifestyle dramatically. Lauren has been able to move to a new job in Oxford, and now cycles to work or takes the bus. Having lived in old properties that were cramped and dark, Lauren and I know the positive effect lots of natural light and space can have on our well-being Mosaics has a great feel to it with a variety of building styles surrounding by so much green space. The back of the development is just the open countryside – it's beautiful. The fresh air and greenery provide the perfect location to take our dog for walks. The connectivity is really impressive and if we ever need to get into London, the Oxford Tube is really easy – the park and ride is just 10-minutes from us and then the bus goes straight into London, taking only 1hr 15-minutes. Connectivity was an important aspect to us and Mosaics was in the perfect location just 15- minutes from the centre of Oxford. If we wanted to walk into the city centre it would be a leisurely 30-minutes' walk.
Mitchell & Lauren