South Cambridgeshire District Council and Hill celebrate the official opening of Moorefield!
Image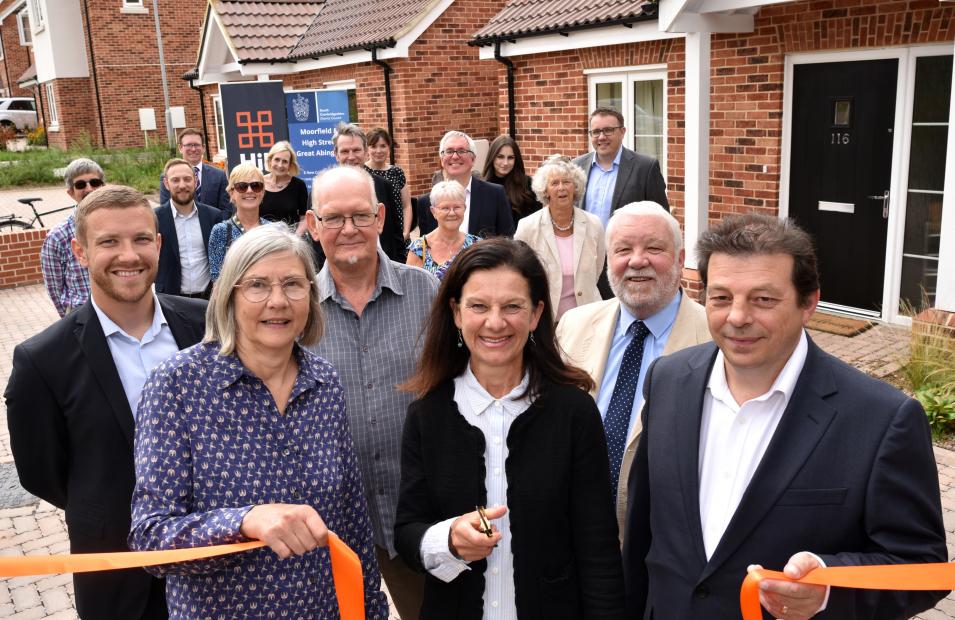 Moorefield, our picturesque development in Cambridge, was opened last week in a ribbon cutting ceremony between Hill and South Cambridgeshire District Council. The new homes consist of twenty houses in Great Abington, 40% of which are affordable.
The eight high-quality new homes were officially handed over to the Council during the community event, with Councillor Bridget Smith, Leader of South Cambridgeshire District Council, Councillor Hazel Smith, the authority's Cabinet Member for Housing, and our Regional Director Jon Thistlethwaite officially opening the development at the ribbon-cutting ceremony.
The new homes at Moorefield have been carefully designed and offer a range of properties, from three-bedroom chalet-bungalows up to six-bedroom family houses, and offers a range of tenures, building on our commitment to delivering mixed tenure homes throughout South Cambridgeshire.
We have a strong reputation for working in partnership with local authorities and housing associations across South Cambridgeshire to deliver high quality, mixed tenure homes. We have been working across the district for more than ten years and have delivered over 500 new homes for the area, 82 per cent of these properties were affordable and delivered in partnership with housing associations and South Cambridgeshire District Council. We are therefore proud to be delivering additional much-needed family homes here in a further partnership with the council. Moorefield is the perfect destination for families. These beautiful and well-proportioned homes will offer views of stunning, open countryside, and there a number of good schools nearby too.
Jon Thistlethwaite, Regional Director at Hill
These are top-quality, affordable new homes that are fantastic additions to our Council housing stock. We continue to be very clear that bringing forward homes that are affordable for people to live in is a top priority for us, and this is an example of us doing just that. We're very pleased to have worked with Hill on this scheme, and look forward to continuing that partnership to deliver affordable housing across other parts of South Cambridgeshire.
South Cambridgeshire District Council's Cabinet Member for Housing, Cllr Hazel Smith
I'm very happy with the development and developers like Hill that engage with Parish Councils and local Stakeholders. This scheme is of great need, and one that the Parish Council supported. The local community now has more affordable homes to support the growing community.
South Cambridgeshire District Councillor for Linton ward, which includes Great Abington, Henry Batchelor
Discover our remaining private sale homes at Moorefield today by visiting our website or calling our sales team on 01223 607505.
At Hill, we are also developing a number of other sites in South Cambridgeshire including The Orchards and Farriers Yard. The Orchards, also located in Great Abington, will provide 45 new family homes for the village, whilst Farriers Yard will provide 33 mixed tenure homes for Balsham.