Community celebrates with topping out ceremony at Agar Grove
Image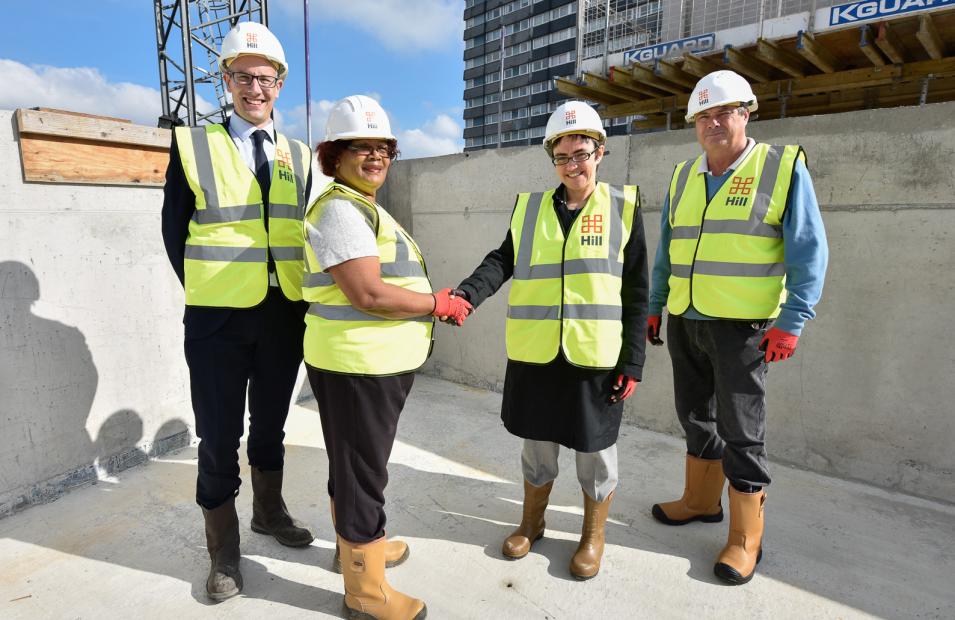 To celebrate reaching the highest point of the first block at our Agar Grove development, we were proud to host a Topping Out ceremony with the London Borough of Camden.
As one of our exciting regeneration projects, involving the community with each step of the construction process is important – especially as the homes built will be a mix of new and replacement homes for those living on the estate. With this in mind, we invited residents, members of the council and industry professionals to join us.
The leader of the Council, Councillor Sarah Hayward, and our London Regional Director, Simon Trice, were joined by two estate residents to unveil the completed roof to the team.
Working with the London Borough of Camden, the first block of 38 new homes are part of Camden's Community Investment Programme, which will create or replace 493 new homes overall. The first 38 homes will house residents currently living in existing older housing on the estate.
Hill  will be delivering 95 new homes as a part of this project and all will be Passivhaus certified: an energy performance standard that expects a house to have excellent thermal performance, airtightness and ventilation. Set to be the largest Passivhaus development in Europe, we have worked hard to ensure that the construction will be safe by redesigning complex elements of Passivhaus into understandable construction principles, and we have used experienced design consultants to assist us in creating a design strategy.
Find out more about our regeneration work here.