Architectural students from Oxford's twinned city visit Mosaics
Image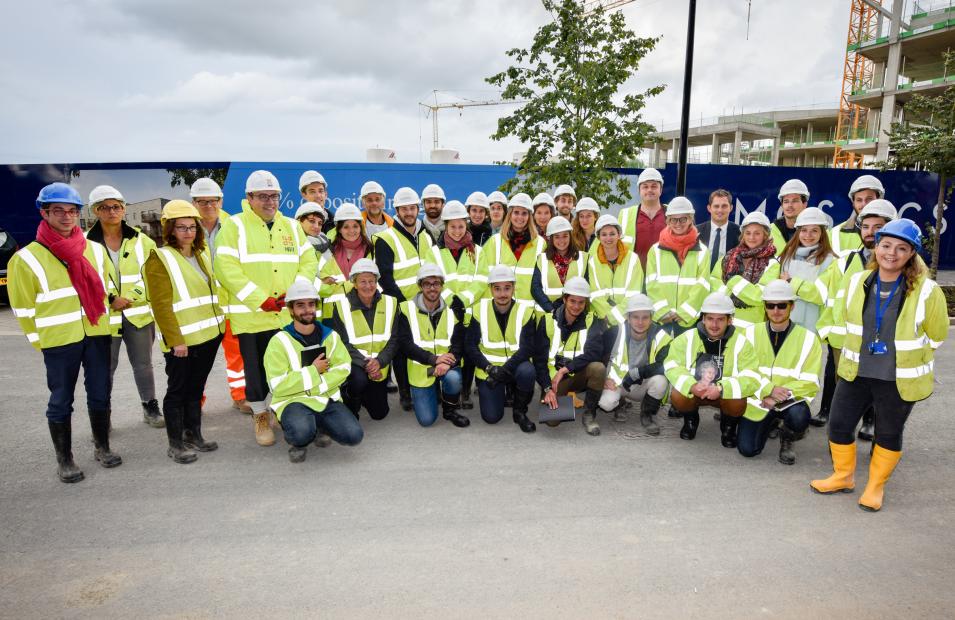 We were proud to host a collection of architectural students from Oxford's twinned city of Grenoble, who visited Mosaics at Barton Park to learn how new housing developments can encourage healthy lifestyles.
Mosaics is the first private residential phase at Barton Park, a new sustainable new urban extension in Oxford. Mosaics, a collection of 237 homes, offers one, two and three bedroom apartments and two, three and four bedroom houses, designed by renowned architects Alison Brooks and Pollard Thomas Edwards.
Chosen as one of NHS England's Healthy New Towns, Barton Park will provide up to 885 new homes and will contain a host of community features to promote healthy lifestyles. This includes pedestrian and cycle-friendly streets, a network of parks, green spaces and outdoor gym equipment to encourage outdoor activity, and community facilities including sports facilities and a new primary school.
Dr Stéphane Sadoux, deputy director of the Centre of Excellence in Architecture, Environment and Building Cultures at the Grenoble School of Architecture (Grenoble Alpes University Community), and 22 of his final year architectural students, visited the development in Oxford last week. The visit was part of a week-long field trip to England to learn about architectural and urban design.
We were pleased to give the students a tour of Mosaics, where they received information about the health elements of the development and how it is encouraging healthy lifestyles in the existing Barton community.
Councillor Bob Price, Leader of Oxford City Council, and Councillor Mike Rowley, Executive Board Member for Housing, also met the students to explain the wider context of health inequalities and housing across Oxford.
The new Barton development is so much more than just about building 885 new homes. Encouraging healthy living has been built into the fabric of the new community – and the Health New Towns project has enabled the new development to be a catalyst to encourage healthy lifestyles across the existing Barton community. We have learnt a lot during the new Barton development, and it was great to be able to share our learning with students from our twinned city of Grenoble.
Councillor Mike Rowley
This is a landmark development that will set a new benchmark for housing and the development of healthy communities in Oxford, and we have worked with some of the brightest minds to deliver homes which combine excellence in both design and function. It is great that students from other global cities can see the results first hand, and that we are able to demonstrate just how much can be accomplished when housebuilders and local authorities work together to meet local housing needs.
Greg Hill, Deputy Chief Executive at Hill
The students we are training today will still be practicing in the late 2050s. Over the course of their career, they will face unprecedented health-related and environmental challenges. Best practice exchange, especially at an international level, is an invaluable addition to their curriculum. The project is an impressive example of the way a bold political vision can be implemented through a public-private partnership which allows resources and expertise to be pooled to address crucial issues. In particular, the design code produced for the area demonstrates the central role of urban and architectural design in this process. We were particularly impressed by the fact that, although the site is located on the outskirts of the city, the layout and density feel urban and walkable – they are not what you would find in a typical suburban development.
Dr Stéphane Sadoux